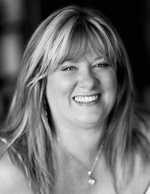 "In 2002, on the first Saturday in March, I was fortunate enough to be invited to the first ever, By Invitation Only Ladies Lunch in Crawley and was one of 34 guests. Following the lunch I was asked by founder Gillian Lloyd, if I would be interested in helping organise the lunch on a more regular basis and following the loss of my mum to breast cancer, my obvious response was yes. I wanted to do something to remember her by.

14 years on, I am now one of a group of ladies that hosts its own annual lunch also in Crawley, but on the second Saturday in March. I love the concept of By Invitation Only. What better way to meet up with girlfriends and family on a regular basis whilst raising funds for cancer based charities.

I have met so many people over the years, some of whom are sadly no longer with us. Many of us have had Cancer affect our lives in some way and organising the lunch each year and raising money for such worthy causes, is a way of remembering the people we have lost with the hope that we may help towards finding a cure for this terrible disease".